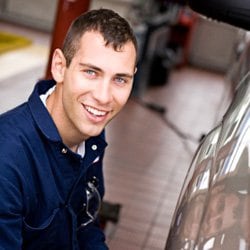 Genuine Ford Parts for Your crossover, SUV or truck
Searching for the perfect rooftop cargo box or bike rack to go with your family's adventures? Whether it's a new accessory, a replacement part, or a fun design element, when you're looking for a new component for your F-150, Escape, Explorer, Bronco Sport or Ranger, our Whitewater parts center can help. We staff our parts center with Ford professionals who are experts on every model in our collection, and who only work in authentic manufacturer parts.
Genuine Ford Parts at Ketterhagen Motor Sales Inc
If your main concern as a Wisconsin driver is finding reliable parts, look to Ketterhagen Motor Sales Inc for help! Our parts department is ready to help drivers find a host of genuine parts, including Ford parts! We'll help drivers find the same parts used by Ford in production so that Wisconsin drivers can rest easy knowing the parts are high-quality and made specifically for their vehicle! Whether imitation parts have failed you in the past or you just want to be doubly sure that the parts last, the Ketterhagen Motor Sales Inc parts team is ready to help!
Parts Order Options - Online, Phone, or in Person
In this modern day and age, Wisconsin drivers can look forward to a modern parts experience at Ketterhagen Motor Sales Inc. We offer drivers a range of ways to order parts! Whether you're a Whitewater driver that prefers classic in person interactions or you're looking to call or utilize our website, Ketterhagen Motor Sales Inc can accommodate all three options! Ensure that your vehicle stays in fit driving shape, choose Ketterhagen Motor Sales Inc parts department for all your new parts needs! Whitewater drivers can fill out an online parts order to get ahead of the curve! Stop by, call, or fill out an online parts order today!